Knowing the when, even the where, still doesn't ruin the surprise. Jenn's dad mentioned Kevin had been around while she was at work so she knew that the trip to Banff was going to be the when & where. But when Kevin got down on one knee in front of Bow Falls, Jenn was in tears of excitement; she was going to marry her best friend 🙂
Their classic wedding was full of beautiful moments & sweet touches 🙂 We are thrilled to be sharing their wedding with the readers of Swooned Mag.
Jenn + Kevin, thank you for including us in your wedding 🙂 We are so honoured to have been a part of it & Rina loved hearing some BSB on the dance floor!
Much love,
Anthony + Rina
"My most memorable moment was the first look when Kevin saw me for the first time in my wedding dress. It was the moment when I knew everything was going to be ok and we were going to get married." – Jennifer
"My most memorable moment was seeing Jenn in her White dress for the very first time. I had my back turned waiting in anticipation, and when the moment finally came, it was well worth the wait. Jenn looked so beautiful, and I knew that I was a pretty lucky guy to have Jenn as my bride." – Kevin
The Details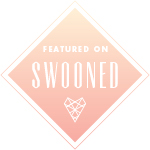 Wedding dress, sash, earrings :: Novelle Bridal Shop
Flowers :: Funky Petals, St. Albert
Cake :: Cake Couture
Tuxes:: Moore's
Hair :: Diva Hair Superstore Inc
Wedding Favors :: Mirabelle Macarons
Makeup :: Stephanie from Edmonton Makeup Artists